The Local Area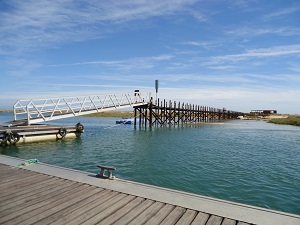 Cabanas began life as a fishing village and that is still evident in the fishing dock at the west end of the boardwalk and the abundance of fresh fish and seafood in the local restaurants. There are still lanes of small houses decorated with the traditional azulezos, blue and white tiles, which are very Portuguese.

In 1987 the Ria Formosa was designated a Natural Park as a wetland of international importance for birdlife. More recently it was awarded one of 7 Wonders of Natural Portugal, the only marine area. The beach is on Ilha da Cabanas, Cabanas Island, inside this Park. It has consistently been a Blue Flag beach, measured on 32 criteria including water quality and safety.
You can see that for yourself, the beach has white gold fine sand sloping gently into the water. You reach it by a 2 minute boat trip across the estuary. Boats run back and forth all day. Children go free and for adults it is €1.50 return. There is then a boardwalk of around 300m over the dunes to protect them, and makes for easy walking! You'll find a cafe and beach bar, parasols and beds for rent, lifeguards and a protected area. Note that these facilities are only available in the main season from May to September. Outside of these times there are still toilets but you need to bring your own towels and drinks!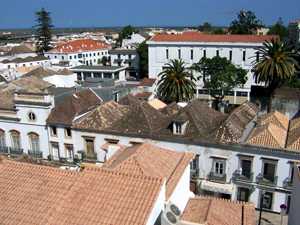 Tourism has become the mainstay of the economy in recent years but very well controlled. This is a resort of villas and low rise apartments- planning permission is restricted to 3 storeys. There are lots of parks for children to play in. A long wooden boardwalk runs the length of the sea front and is great for walking, pushing buggies, watching the world go by or eating an ice cream from a number of ice cream parlours. Restaurants are family owned with no chains. A number are highly rated with fish and seafood a speciality. There are a handful of bars but this is not the place for stag night, it is a resort perfect for families and couples. Outside of Cabanas, the nearest town is Tavira, regarded by many as the prettiest town on the Algarve and known for its many churches and castle. That is 10 minutes by car, bus or train.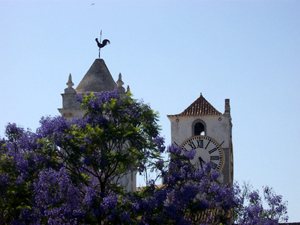 If you do want to tour further afield, a car would be useful.

Within 30 minutes you can head up the Ria Guardiana to Alcoutim, visit Vila Real de Santo Antonio and head over the river to Spain, visit the Roman ruins at Milreu and palace at Estoi or the regional capital of Faro with its cathedral and walls.


Seville is 90 minutes drive down the motorway.